Flooring Installation Contractor in Cherry Hill NJ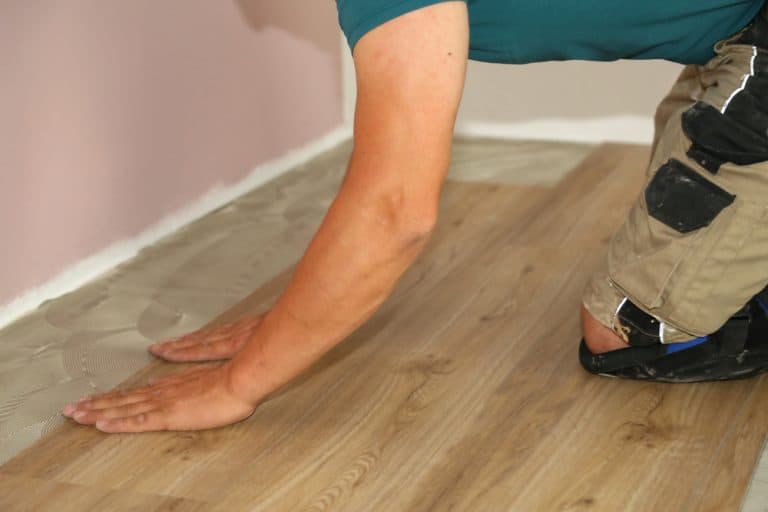 One of the best ways to transform the interior of your home is to install luxury vinyl or laminate flooring.
Nailed It Home Improvements specializes in laminate and luxury vinyl flooring in South Jersey.
Why You Should Consider Luxury Vinyl Flooring in Your Cherry Hill NJ Home
Have you ever wished for flooring that is long-lasting, waterproof and simple to care for? Look no further than luxury vinyl flooring. This flooring can hold its own in any active household, from kids playing and family pets jumping to bathtub splashes and kitchen spills.
Luxury Vinyl flooring is manufactured to resemble hardwood, and it comes in strips. You can find this product in a variety of styles, each resembling a specific type of wood, from oak to hickory and beyond. Because vinyl plank mimics hardwood, you're sure to find a version that matches the rest of your home's decor. Additionally, vinyl is the affordable choice for renovators who want the look of hardwood without the challenging installation and costs.
Luxury vinyl is comprised of multiple layers that create it one of the most durable flooring options available. A top layer provides resistance to scuffs and scratches. The multi-layer construction also makes luxury vinyl a completely water-proof flooring option and able to stand up to wear in very high traffic areas of your house. Luxury vinyl is truly worry-free, so you won't have to cry over spilled milk, pet accidents or any other messes that come your way.
Easy Upkeep

People love how easy it is to clean and care for luxury vinyl flooring. With just a vacuum or damp mop, you can tackle everyday dirt or spills of any size. Luxury vinyl does not need sealing or refinishing, so it is easy to maintain over its lifespan.
There are really two major benefits to installing Luxury Vinyl Flooring in your home.
The first advantage is price: Luxury Vinyl Flooring represents some of the least expensive flooring on the market.
The second advantage is quality: Luxury Vinyl Flooring is incredibly durable. It does not scratch as easily as natural wood or stone, and it's water-proof. This means you can install Luxury Vinyl Flooring in areas where natural products cannot be (like kitchens and bathrooms). This durability also makes luxury vinyl products a good choice for households with family pets and kids.
Installing Luxury Vinyl Tile and Luxury Vinyl Planks in your home represents an affordable alternative to solid hardwood that does not sacrifice quality. In addition, recent technological advancements have made LVT and LVP almost indistinguishable from their natural counterparts. It will certainly look and feel like you are walking on real hardwood!
Laminate Flooring Installation in Cherry Hill NJ
Laminate flooring is a manufactured product that simulates the look of wood flooring, hardwood flooring, ceramic tile flooring, natural stone tile flooring and many other types of flooring.
In the past, laminate floors have been quick to distinguish, but today's techniques allow laminate floor manufacturers to create realistic visuals and textures for an elegant and quality laminate floor.
You'll be thrilled at how consistently and amazingly laminate flooring mimics other premium flooring. In fact, many of today's laminate flooring styles are made of extremely authentic wood floor or natural stone floor visuals to accommodate any room in your home.
Laminate flooring is well suited to those purchasers who want the look and feel of real hardwood or stone flooring but without the cost or maintenance that can certainly be associated with natural wood flooring products. Laminate flooring offers a significant value in the world of hard surface flooring options and is popular among buyers who are looking for a beautiful, durable, yet cost-effective flooring solution for their home.
Laminate flooring comes in a wide assortment of designs, sizes, and colors, and is available in many distinct plank widths and square tile sizes for further styling options. Designs vary from realistic stone to tile and hardwood visuals giving you a nicely finished and professional authentic wood look.
Laminate Flooring Installation by Experienced Professionals
Laminate flooring is installed by directly placing the planks over most substrates, including plywood, OSB, concrete slabs and some existing flooring coverings. The planks and tiles have tongue and groove edges that secure them together. These floors are never secured directly to the sub floor.
Give Nailed It Home Improvements a call for all your Laminate or Luxury Vinyl Flooring needs.